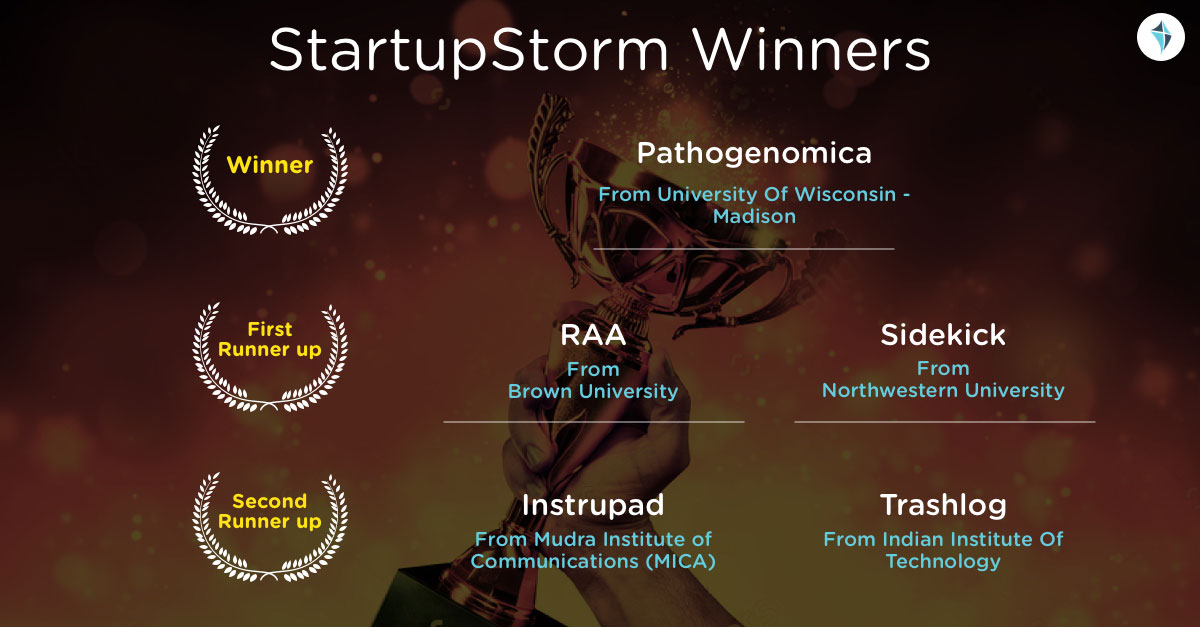 Santa Clara, October 10, 2017, StartupWind.Inc, the social networking and equity crowd funding platform for entrepreneurs, investors & alumni from premier schools, announced the winners for the Startup Storm Global Business Plan competition today.
Pathogenomica, from University of Wisconsin Madison - a startup aimed at revolutionizing microbial detection technologies using next generation sequencing to prevent microbial outbreaks, won the competition and the $4,000 (four thousand) first prize.
The first runner up of the competition were Redefining Aviation in Agriculture (Aerospace industry) from Brown University and Sidekick (EdTech industry) from Northwestern University.
The second runner up include Trashlog from Indian Institute of Technology Bombay and Instrupad from MICA, Ahmedabad.
Ashwin Halgeri from Northwestern university and founder of one of the participating teams quoted," My company Sidekick was exploring innovating funding opportunities and Startup Wind seemed very interesting to us. All in all, the platform has been very useful for us and we are keen to continue working with Startup Wind as Sidekick progresses on its journey."
"Having a platform that enables aspiring student entrepreneurs to get access to funding, advice from professionals, and the opportunity to meet other like-minded students has been a truly phenomenal experience. StartupWind has given us a mouthpiece to articulate our ideas and receive constructive feedback in an unparalleled way", said Julian Vallyeason, co-founder of one of the participating startup from Brown University.
With StartupWind and it's network of mentors and mentees,  provides the crucial knowledge required to make potential ideas realize their worth. There is a big chasm between talking the walk and walking the walk, which this platform very ably bridges. Before the competition on Startupwind, Instrupad was a concept we were working on, seemingly all over the place. Working for this, made us realize how every individual piece strung together and how far we had come", said Dhananjay Sinha, co-founder of a participating startup from MICA.
The Startup Storm is a global competition for students from premier schools, which invited budding entrepreneurs to create a business plan and a funding ready pitch. Participants showcased their plans in front of a global network of 6,000 investors, mentors and entrepreneurs. The participating startups were from various arenas including healthcare and diagnostics, IT/Software, augmented reality, education, aviation, recycling and blockchain.
University of Wisconsin - Madison, Northwestern university, Brown University, Carnegie Mellon University, Northeastern University, Indian Institute of Management, and Indian Institute of Technology were some of the participating schools.
The finalist pitched their startup idea to an expert panel of judges from Silicon Valley including former venture capitalists, private equity partners, angel investors, and corporate executives.
Talking about of 'The Startup Storm', Narendra Patil, Founder of StartupWind said, "We are happy to announce the winners and are excited about the next steps for them. The level of response we received from all over the world was overwhelming, and I am glad that StartupWind is providing tools and a sense of community to entrepreneurs who are trying to make their mark. The diversity of industries and projects and quality of business plans submitted, really reflects the immense potential for the next generation of entrepreneurs."
Headquartered in Santa Clara, California, StartupWind unveils a new way to connect, ideate and fund startups.
Please visit www.startupwind.com for more information.